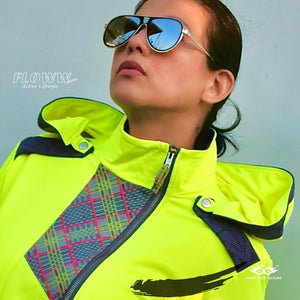 SUYAM
Manobo Embroidery
Philippine Manobo embroidery, also known as Suyam, is an intricate embroidery technique that has been passed down from generation to generation among the Manobo people of Agusan del Sur, a province in the southern part of the Philippines. This type of embroidery is unique because the embroiderers get their inspiration from their dreams. They believe that their dreams are messages from their ancestors or spirits that guide them in creating their designs.
The Manobo people have been practicing this tradition for centuries, but unfortunately, the number of people who are skilled in this craft is dwindling. Many young Manobo people are no longer interested in learning this craft, and as a result, the tradition is at risk of being lost forever. However, there are efforts being made to preserve this cultural heritage. One such effort is being made by WYC Wear Your Culture, a social enterprise that promotes and preserves traditional Filipino crafts.
WYC Wear Your Culture recognizes the value of the Manobo embroidery and the need to create a demand for their craft. To do this, they have collaborated with the Manobo embroiderers to create modern clothing using their work. By incorporating the embroidery into contemporary clothing designs, WYC Wear Your Culture hopes to create a market for the Manobo embroidery and inspire young people to learn the craft.
Through this collaboration, more Filipinos can wear clothing that showcases the beauty of the Manobo embroidery, and the tradition can be kept alive. WYC Wear Your Culture believes that by creating a demand for the Manobo embroidery, they can help preserve this cultural heritage and provide a sustainable livelihood for the Manobo embroiderers.
In conclusion, the Philippine Manobo embroidery or Suyam is an important cultural heritage that is at risk of being lost forever. The tradition of using dreams as inspiration is unique and should be preserved. WYC Wear Your Culture's efforts to create modern clothing designs using the Manobo embroidery is a step in the right direction to create a demand for this traditional craft and keep it alive for future generations.
Whatever you do, do it all for the glory of God

1 Corinthians 10:31
We all have a role to play as members of this nation. We can do it one person at a time by sending one child to school or one industry at a time by creating a demand for their product.That is WYC's inspiration.We aim to tap every Filipino's closet and make them wear their culture everyday.

Alvin and Evita Degamo (Founders of WYC)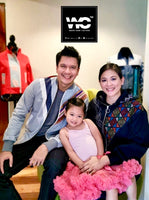 THE WYC STORY
ALVIN + EVITA = REI is backed by two decades of exposure in the Fashion Industry as Professional Ramp and Commercial Models. Both have traveled various parts of ASIA, USA and EUROPE promoting Philippine Culture through Fashion Shows with prestigious designers like Renee Salud, Pitoy Moreno, Ben Farrales, Nono Palmos and Ditta Sandico.
In 2012, ALVIN + EVITA = REI started their events management company where they had an opportunity to immerse themselves in a weaving community. Having learned that hand weaving is a dying industry in the Philippines, they found the urge to find ways to create demand for handwoven fabrics to encourage the youth to continue this culture and tradition. More than wearing them on runways and cultural events, handwoven products should be something we can wear everyday. And that gave birth to WYC (Wear Your Culture), a line  of clothing that uses Philippine handwoven Fabrics in modern designs for every Filipino to wear everyday.